Warning
As with all distributions in the Linux Mausoleum, this distribution is no longer under development and may have unfixed bugs or security issues. Download links (if any) are for reference or research purposes only.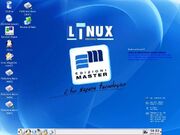 The Linux Magazine miniCD is a modified version of KNOPPIX, an autoconfiguring Linux live-cd, that I have created for Edizioni Master, the publishing house of the Linux Magazine: the first version was attached to the number 35 (November 2003), in a completely exclusive way.
The Linux Magazine miniCD has been designed to be easily shipped on every mini-cd format (available on the market in multiple sizes, from 185 to more than 200 MB), integrating everything in less than 185 MB. A purpose of this mini distribution could be even only to have a small Linux system, that works almost on any compatible PC, to bring always with yourself, in the pocket, just in case you need it.
The Linux Magazine miniCD contains the most important tools to use it as rescue disk both for Linux and Windows systems, but it could be even only a small example to show a Linux desktop to a friend who doesn't know anything about it yet.
Actually it contains the desktop environment KDE 3.1.3, and many applications for every net task: for example it's possible to browse the web with Mozilla Firebird and Konqueror, read your own e-mail inbox with Kmail, do ftp file transfers with gFTP, communicate through istant messaging and chat with Gaim, connect to Windows® PC of your own LAN with Komba2, and much more. The added multimedia players are Mplayer and Kplayer, that support all the most common audio and video files; and there are also Kuickshow, to browse our image archives, The GIMP in the new development version 1.3, that represents the top for photo and image editing; and Sodipodi, for our vectorial graphic works. But we don't stop here. Sure enough, with the Linux Magazine miniCD you cand do all the most common office activities, too, for example to burn cd with K3B, write sofisticated text documents, thanks to Abiword, and edit even very complex spreadsheets with Gnumeric: besides, both with Abiword and with Gnumeric we can note a very good compatibility with the MS Office® formats. There is also the database MySQL, together with its graphic administration tool MySQLcc. And then, to display PDF documents, there is GPDF, and with Scribus, you can do desktop publishing tasks even at a professional level. The users who care about the eye-candy of their own desktop will like the use of the twin themes ThinKeramik/ThinGeramik for the graphic consistence between KDE and GTK+ application, and then, the addition of SuperKaramba, with two themes, a small system monitor and a RSS feed reader. Are you wondering how it was possible to insert all this in only 185Mb?
Community content is available under
CC-BY-SA
unless otherwise noted.